Almost everyone who works with websites knows what whois website lookup tool is. But contrary to the beliefs of common users who barely use this tool, it is very versatile. It provides a whole lot of highly useful data if you know how to properly read whois reports. From current domain name ownership and to its owner's current hosting service info.
Therefore, it is very important to properly comprehend all the information you get from whois icann tool to make the most use of it. Because without that knowledge, even if it is very basic for seasoned webmasters, the use of the whois data will be very limited. And for you to avoid that, it is vital to learn the ropes of whois lookup result understanding.
What domain registration info whois shows
The main thing that you should understand - there are dates and timings all over the top part of the whois domain info in the lookup records. Domain registration date, expiration date, last renewal (update) date - all this info is vital for the domain name owner or the one who wants to compete for the name. Therefore, if your desired domain is already claimed by someone, it is a must to know when you will be able to snatch it. And those aforementioned dates will help you with that.
First of all, registration date - it shows when domain name was first registered and claimed. Second in the site lookup whois report is update date - when the domain was claimed last time by its current owner. And the last one, but by no means unimportant, is expiration date. Actually, it's even the other way around - expiration date is the most important thing in web domain lookup report details.
Why find domain registration details is important
As it was mentioned earlier, whois look up details are vital for everyone who wants to claim domains whois shows as already owned for their website. Especially expiration date and time. Because it's essentially the most vital thing you should look for when you are starting a new project with the most suitable domain name for it.
And you obviously need to know how not to miss the moment and get the desired name before its current owner renews the ownership and wastes your time and efforts. Or if you don't want to lose your current domain name. Of course, we have just the right tools at our HostTracker platform to help you with this task of avoiding missing the right moment.
Why icann domain registration renewal is vital
First things first - if you miss the renewal time (domain expiration date), you will lose its ownership. That's vital for every webmaster. Someone can snatch the domain if you're not paying attention to domain registration information. Or you can be the one who will get the desired domain from its unattentive owner using lookup domain registration info properly. Either way, that's the most unwanted situation for the owner. Therefore you obviously must monitor it by any means necessary.
That's when our HostTracker toolkit will come in handy. Our platform's whois tool allows you to not only conduct a one-time whois info check, but also a full-fledged whois monitoring. Every registered HostTracker user can set up a monitoring routine that will execute whois lookup checks on a scheduled basis and send notifications about upcoming domain expiration dates. This is the most convenient way to ensure your ownership over the domain name or to be prepared to get for your own project from another website.
How domain expiration check works
To get a better understanding of how everything works, it'll be good to have an example. Imagine that you just created a website of your own and want to get a suitable domain name for it. You search for a befitting and optimized name, execute an icann whois lookup to unexpectedly find out that it's already claimed by someone. And all domains with similar names are owned too.
In other words, all you can do is wait for the ownership expiration dates. And you're obviously unable to run website info lookup every day - you are obviously a busy website owner. That's when you sign up at HostTracker and configure a domain expiration checker tool.
This service will do the whois routine checking and monitoring in your stead, fully automatically. And on top of it, this tool will notify you about expiration dates beforehand so that you won't miss the domain expiration and get it for your website if the current owner misses the renewal.
How to check whois information
Basic whois url checks on HostTracker could be executed manually and even without the registration. This tool on our platform, like all others, is very easy to use and could be handled even by a complete novice. It'll be enough just to follow a few simple steps to get domain information with the whois check:
Visit HostTracker main page and press 'Instant Check Your Website'.

If you're a registered user, Sign In and press the 'Instant Checks' button on the right side of the dashboard.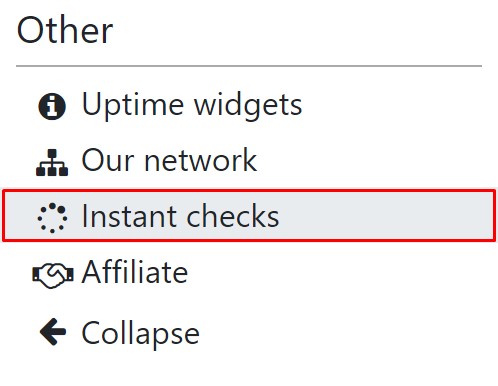 Press the 'Whois check' button.

Type or copy-paste the domain name you want to check in the corresponding text field.

Press the 'Check' button to start the domain lookup.

Wait for the check domain info routine to complete.

Check the result.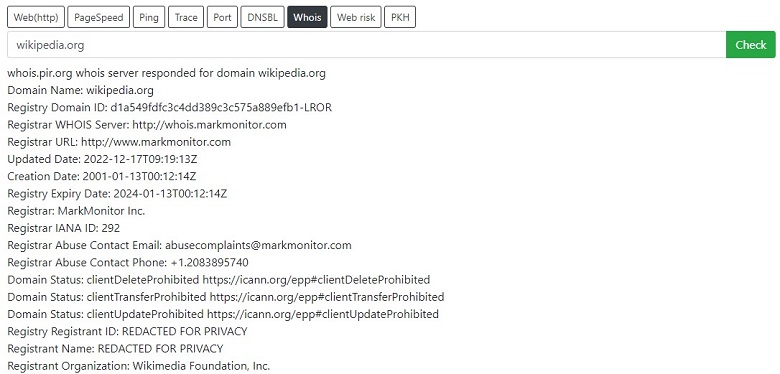 When our tool finishes retrieving the domain data from the icann databases, you will see all of the publicly accessible data along with the reasons for concealment of some information about the domain. Including, but not limited to domain registration date, expiration date and even its current hosting info.
Domain information lookup setup
As it was already mentioned, HostTracker unregistered visitors can only use a one-time manual domain info lookup check. And if you plan using the automated whois lookup tool, you need to Sign Up to get access to the monitoring tools. Once you're there, you should Sign In, visit the Dashboard and follow simple steps:
On the main Dashboard page, press the 'Add' green button in the top left corner.

Pick the 'Domain expiration' option from the 'Monitoring type' dropdown.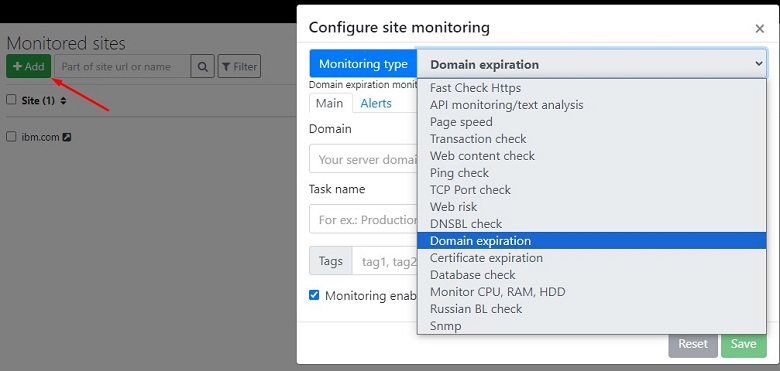 Type or copy-paste the domain name you want to monitor in the corresponding text field.

Switch to the 'Alerts' tab to set up notifications.

Press 'Save' button to save the monitoring routine configuration and start automatically monitoring domain expiration.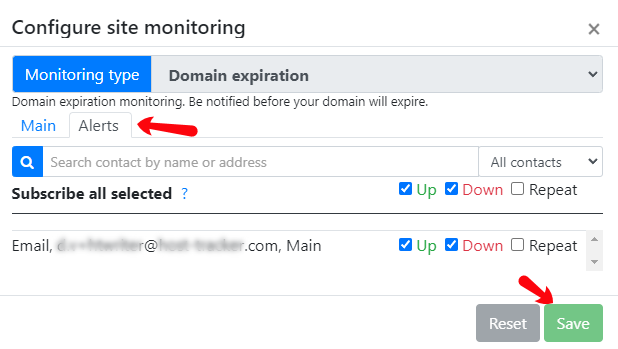 With this, domain registration lookup monitoring setup should be complete. Our system will conduct whois record checks on a scheduled daily basis and notify you before the domain is expired. Therefore you will know if the current owner's renewal was conducted or not, and get the domain name for your website if its owner is too slow to renew it in time.
How to start whois online checking
Concluding all the above, domain website check is vital for every webmaster who wants to get a suitable name for the website and save it by timely renewal right after. But it is unachievable without the reliable tool that will do everything automatically.
And our HostTracker monitoring toolkit allows its registered users to do exactly that, and for a relatively low subscription fee. With our service capabilities, you will be able to set up the lookup domain expiration routine to keep the domain you want or already own in check for not to miss its renewal time.
Moreover, after registration you will get a free 30-day Trial that works exactly the same as the paid plans. This way you will be able to test our platform's tools yourself and pick the most suitable subscription for your needs.
---
About author

Artem Prysyazhnuk
CEO and founder of HostTracker LTD. He's a passionate entrepreneur with a strong technical background in F#. Artem has been working in the software development industry for over 20 years.