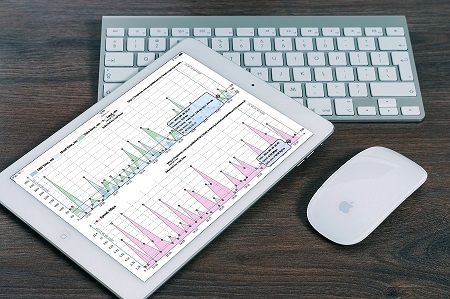 The main feature of HostTracker monitoring service is the regular checks of websites with monitoring intervals from 1 minute. Moreover, the HostTracker's dedicated global monitoring checkpoints network currently includes more than 140 servers all over the world.
Each test is simulating the visit of a real user. If this imaginary visitor is able to load the site – everything is ok, otherwise – the site is revised again by a certain algorithm (just to be sure). Then, if an error was identified, it is recorded in the database and the notification of unavailability is sent. This is the easiest way to check the site's availability. If you are interested, HostTracker has a great deal of more sophisticated tests to offer.
Types of tools for web accessibility evaluation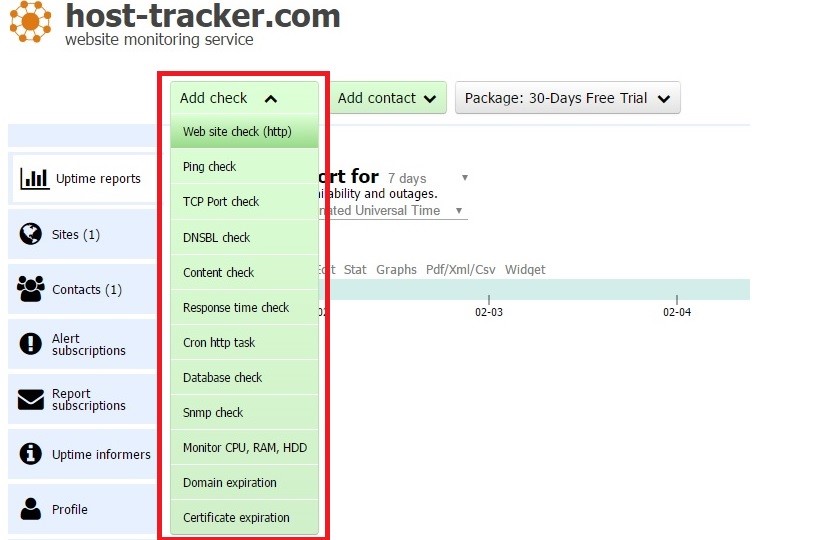 Here are some quick checks you can start with immediately that will move your web site toward better accessibility. It is worth noting that these checks support different protocols.
For example:
HTTP - this is an ordinary request, which is obtained from the user's browser.
Ping – helps to test site or server network connectivity.
TCP-port - tests the site-to-application connectivity.
Database Check - a health check which can ensure that the web server can connect to the database and can also help in monitoring of other vital features. For those seeking a possibility to check the data on the page, there is a content check function. In this case, the virtual client is not just logging in, but also looking for the presence or absence of certain words and phrases. This feature helps you to detect whether some important section of the text has been lost. Moreover, it helps you to spot any mistakes on the page at once.
With HostTracker service you can also monitor the response and loading time of your web site. Furthermore, the corresponding data is being written to the inspection logs.

Armed with all these tests, you'll be eager to collect extensive and thorough information about your web site. You'll be entitled to know when, why and how did your web site stop working. For example, when the network, server or web site itself are down. Moreover, by using HostTracker, you can immediately detect when web site performance goes down and omit causing any inconveniences for your users. Or even more – you can easily recognize when some data isn't regularly retrieved from the database. All these tools can help you pinpoint and rectify performance and speed issues with any publicly available web site. It, definitely, saves your time! And, in this case, downtime is small.
Interesting fact:
Almost all HostTracker's customers are eager to reach 99% or higher uptime. By the way, the data from this service could be a good support in your future confrontations with hosting partner. Truly, many HostTracker's customers have found a reliable web hosting partner or made him fulfill all promises and commitments according to the contract.
HostTracker provides options for monitoring the domain and SSL certificate expiry dates. This problem seems to be handled easily, as the registrar sends alert notifications, but history provides plenty of notification neglect examples. Dropping the domain name is a widely spread problem. Actually, Microsoft has encountered it twice.
Also HostTracker is one of the best resources that can help to find out if your IPs or domains are on some SPAM-database (so called DNSBL). Apparently, if it seems that you're engaged in spamming or other unwanted online behaviour, your IPs or domain could get blacklisted and blocked. The blacklist usually contains email servers suspected of spreading spam or servers that have been infested with some nasty malware etc.
Most Internet service providers and web servers use these blacklists to detect IPs linked to computers with pervading spam or unwanted activity. And the problem is: you can be blacklisted accidentally and be unaware about it. If it happens, your rankings will go down or disappear entirely. You can be truly innocent of any deliberate wrongdoing and still be on the list. For example, if you share your web hosting with someone unreliable. With this monitoring function you can be always aware if your company's domain name is blacklisted and be ready to deal with it. You're likely to come across contacting the list by email or passing through some sort of automatic procedures in order to prove that you are not a robot when you'll be trying to get off a blacklist.
HostTracker service settings
All above-mentioned checks teem with the wide variety of options:
Maintenance planning and scheduling – allows you, for instance, not to catch the errors during the server upgrade period.
Checks from a particular location- as outlined above, there is a huge network of global monitoring checkpoints, and it is possible to choose only regions with potential clientele: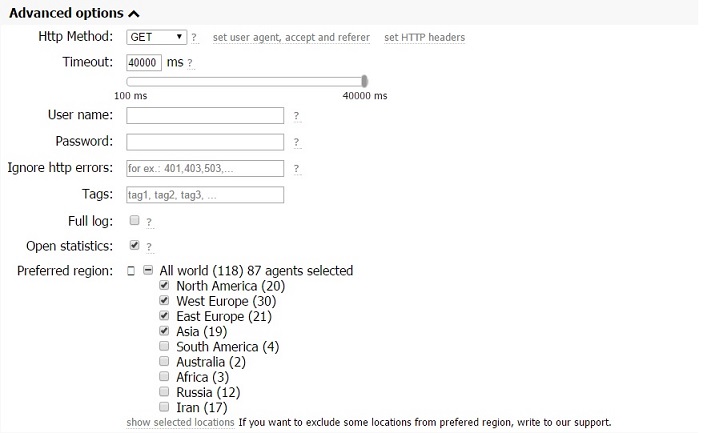 Delay alerts – this option will postpone alert notifications for a specified time span; manage notifications in line with the importance of issues; control the life cycle of both alerts and their notifications.
As regards alert notifications option, clients will find themselves spoiled for choice. HostTracker provides notifications via e-mail, SMS and, by extension, via Skype, Hangouts and voice call. The most striking one - POST request. There is a possibility to send a request to a specific web server (e.g. to restart the web site automatically).

HostTracker service has an API, which allows pieces of software to interact. It is considered as a contract provided by one piece of computer software to another.
The next HostTracker's advantage is that the service doesn't require a lot of system resources (e.g. installation any client software). Almost all features are operating using cloud services, and can be configured with only HostTracker's web site tools. And service settings, definitely, won't take much time!
Generally speaking, the service is still being developed, as well as, the monitoring network expands, new tools pop up and so on. Considering new tools, they are being developed in response to the requests made by clients. Please don't hesitate to contact HostTracker's admins if you have any further suggestions about extra tools which yet aren't provided by the service.